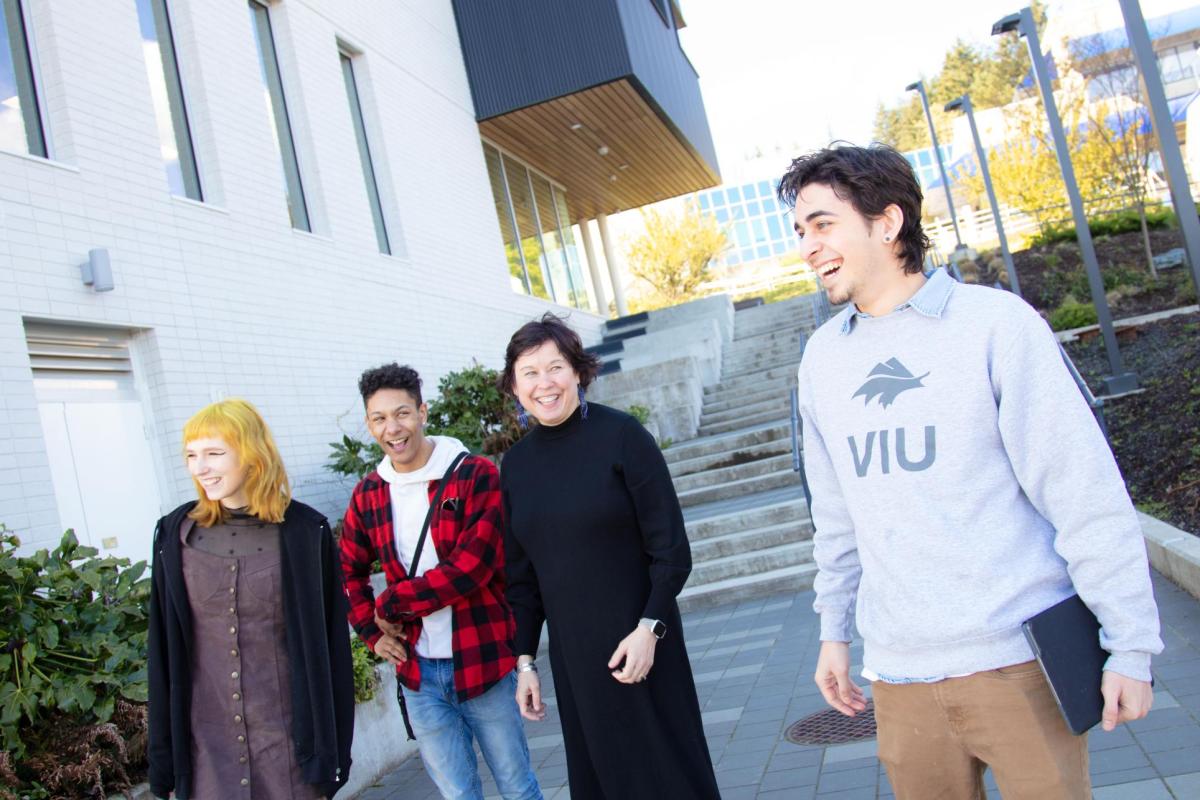 A message from Dr. Deborah Saucier, VIU President and Vice-Chancellor
On behalf of everyone at VIU, we are so happy you chose to join us for your learning journey and are excited to welcome you to our campuses.
VIU is where knowledge thrives, curiosity is nurtured, and innovation celebrated. Whether pursuing a degree, diploma, or certificate, you are part of a rich tapestry of learners from all walks of life. This diversity is what makes our campuses so dynamic and engaging.
You will hear a lot about community while you are at VIU. Our community values understanding, connection, and commitment. At VIU, we all seek to understand the diversity of thought, identity, and experiences of everyone, and we bring that openness of mind to everything we do. We also believe in the power of personal connection to each other. We are motivated by a deep commitment and pride in all our learners and are here to support you.
If you are overwhelmed, I want you to know that your feelings are entirely normal, and you are not alone. Our community culture here at VIU is about helping each other.
It is never too early to ask for help; you will find we are a community of helpers. From counselling and wellness to advising, off-campus housing and peer-supported learning, you can find a complete list of supports on the Student Affairs homepage. I believe that community is all about how much we care for each other. If you see someone you think might be struggling, please give them a friendly smile, and if you are able, ask if they need help.
As you enter this exciting chapter, remember that learning extends beyond the classroom. Get involved in clubs, organizations, and community activities. Make new friends, ask questions, and explore your passions. Your time at VIU is an opportunity to gain knowledge and discover your true potential.
I want to support and affirm that VIU strives to be a welcoming space for all, defined by equality and free from discrimination and hate. Racism, homophobia, heterosexism, and gender-identity oppression have no place on our campuses. In addition to counselling services, VIU has a Diversity, Equity and Human Rights Office available to all VIU community members for consultation regarding human rights, diversity, conflict management, or related topics.
I encourage you to embrace every moment, challenge yourself, and dream big. You are the future leaders, innovators, and change-makers, and VIU is here to help you reach your aspirations.
Once again, welcome to Vancouver Island University. I look forward to witnessing your achievements and celebrating your successes. Together, we will make your time here at VIU an enriching and transformative experience.
Thank you for choosing VIU for your studies. I wish you all the best for a successful year.
Sincerely,
Dr. Deborah Saucier
President and Vice-Chancellor, Vancouver Island University