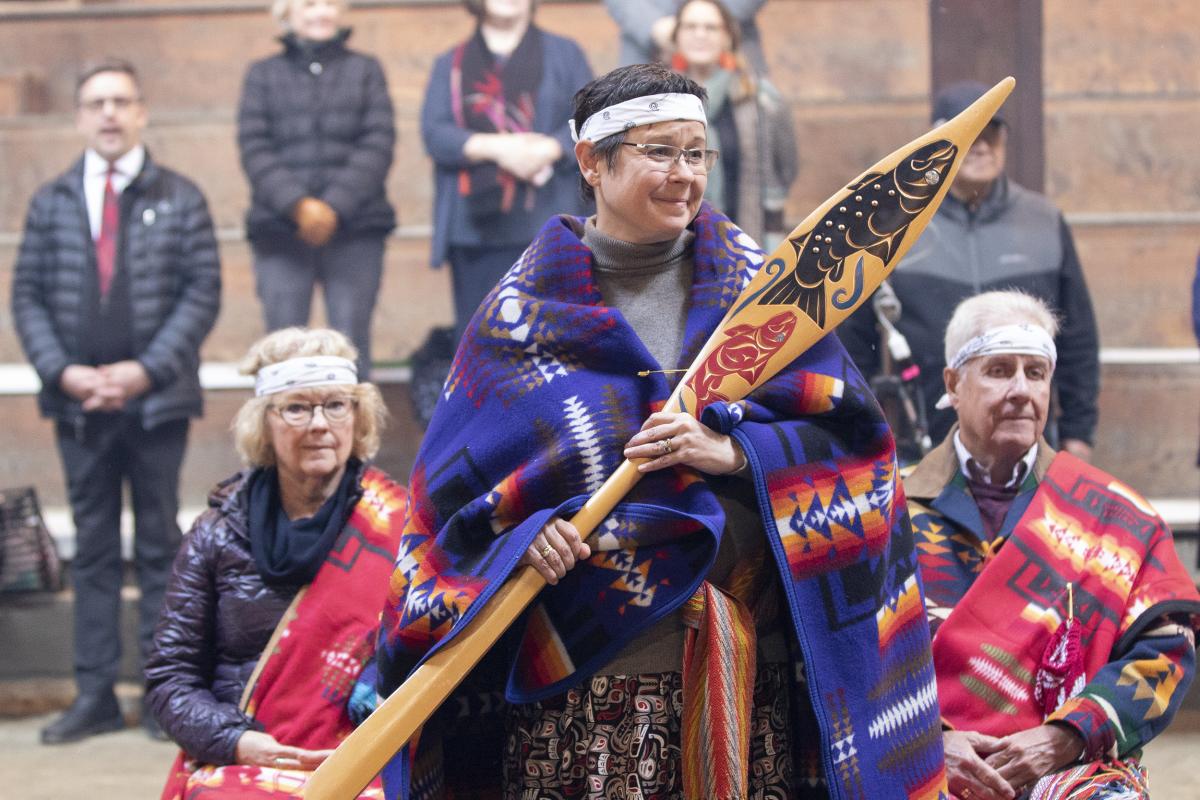 Delivered on Friday, November 15, 2019 at the Snuneymuxw First Nation Longhouse: 
So wow, this is kind of real. I want to first thank the generosity of the Snuneymuxw peoples. I'm humbled by your willingness to share with us, and I just have to say, hy'chqa. Thank you so much.
I also would like to thank those of you who joined us here today – members of the government, our Elders, friends, family, new friends. Those of us who are going to be on this journey together, thank you. I would also like to thank the Board for their faith in me for this.
Our Elders teach us that to start is to introduce someone and yourself in a good way. So let me introduce myself to you in a way that is consistent with being a Métis person, and that is:
Je suis un membre de la nation Métis d'Alberta and my parents are Marilyn Wilkinson and Henri Saucier. On my father's side, the story started in travelling for education. My great-great-grandfather travelled with Louis Riel to be educated in Saint Boniface. While he was there, they started a little rebellion. As an MLA, he helped to sign Manitoba into Confederation. He then retired and thought he would go to another quiet place in Batoche, where perhaps another rebellion broke out. This is the story of my father's family.
The story of my mother's family is rooted here, though. My grandparents were married here, and my grandparents are buried here. My great-grandmother is buried here. They are English, they do not have the history of the Snuneymuxw here, but for a European family, that is a fairly long time on Vancouver Island.
And so, here goes my speech now that I've introduced myself to you in a good way.
I want to ask you today: What if we had a different kind of university? One that not only focused on high-quality education, but thought differently about who and what we teach, that celebrated the people who make it all possible?
I'm struck by the common belief that good universities are those that are exclusive. Think about what that means: excellence is defined by who you exclude. But what if we turned it on its head and thought instead that excellent universities were those that invited everyone in, that excellence was defined by how well the members of our community succeeded, not by how many were weeded out.
This is kind of a radical idea isn't it? To turn a university on its head and define excellence as inclusion and success. VIU is that kind of university, and we are committed to inclusion and promoting the success of our people, our communities and the Nations that we serve. Which is why I think VIU is a different kind of university.
What if we had a university that thought differently about how to engage the Nations and welcome Indigenous learners? In my opinion, and as an educator I am a little bit biased on this, education is the key to a good life. And at the heart of what Indigenous peoples are asking for. The Nations understand the power of education to transform their peoples and to assure autonomy for their communities. And I commit to you that I will listen hard to what is said, and to the silence between the words – to what is not said – to continuing the conversation with the Nations about what their needs are and how to meet them, which is why we will continue to work with the Nations to develop programming in a respectful way that meets the needs of the Nations and your people. It is the heart of reconciliation. It is the key to implementing the UN Declaration on the Rights of Indigenous Peoples.
But to include Indigenous people we need to make sure that we understand their lived realities. We need to have frank conversations about Canada, and the truth of our colonial history and its legacy. To truly serve, we will need to have an honest and difficult conversation about the hidden and, sadly, sometimes not so hidden racism that sometimes spills out of the ugly seams of our Nation. Because this is real and, to be frank, a lot of Indigenous people have good reasons to distrust educational institutions.
But I wonder if in taking the lead on addressing the truth about Canada, we can change that and in doing so, really move the dial on reconciliation. After all, the hard work of reconciliation should not rely only on Indigenous peoples doing all the heavy lifting. It must rely on all Canadians, and leveraging the privilege of a university like VIU is critical to making Canada the country that we want it to be – an inclusive, caring and honourable country.
But what if we have a university that thought differently about inclusion and access to education, that thought hard about who else is being left out of a university education? We know that as the century progresses, we will need more and more access to post-secondary as the key to a good life, but there are some of us, some of us who have been told since we were children, that university is not for them. Perhaps it's because they're not neurotypical, perhaps it's because the whole notion of university is too foreign.
To promote access for everyone, we will continue to develop innovative programs that allow people with cognitive disabilities to not only attend university, but to thrive there. Programs like free tuition for those who have aged out of care. And we will share this program with others. I commit to you that if you want to learn about how your institution and your communities can access Canada Learning Bonds and the RESPs that it gives to all children in Canada, that we will do so, we will come to you.
Education is key to a good and independent life. We will continue to push the envelope on what is possible to make access a part of our DNA. Because access is the key to the democratization of higher education, something that is a fundamental human right, especially in the 21st century.
But what if we also had a university that thought differently about what it taught, a university that considered widening the scope of the material that was offered to include things that other universities didn't, programs that allow people to come back to re-skill and up-skill, to have a big tent that includes trades alongside traditional disciplines. I don't know what the jobs of the future will be, but I do know that if we teach people to solve problems, to adapt to change and to synthesize information, we've done a great deal to future-proof them. And I don't see these skills as belonging to one discipline or another; it's an approach to how we work at a university.
What if we had a university that thought differently about when our work as educators ends? That is, a university that is committed to supporting our learners beyond graduation. Again, if we are to be measured by who we include and how they succeed, we need to do more to support the transition to work that so many of our students need. To do this, we will continue to develop internships and work with people like the Business Council of British Columbia and the British Columbia Assembly of First Nations (BCAFN) to develop the skills and leadership opportunities that our learners so desperately need. We are proud of our partnership with the province and with our colleagues, industries and all of you in this room and we will do more to allow our students to thrive, to have a good life.
But what if we had a university also that thought differently about community, and its role in community. Many of you know our Nanaimo campus, and although we have other locations in Powell River, Deep Bay, Parksville-Qualicum and Cowichan, we will certainly provide programming in other locations as well. Why would we do that? We have a perfectly good campus up the hill. Why? Because we know that when we provide people educational opportunities in their home communities, they stay there. We know that when people leave Duncan, Powell River, wherever to go to school in Victoria or Vancouver, often they don't come home. We know that people are the wealth of the Nations and our communities. And so we will see how we can change delivery models to bring even more programming to where people need it when they need it, which is really why we're at the Longhouse today. Not only because of the tremendous honour that Chief Wyse and the Snuneymuxw have given to VIU and me in holding the ceremony today, but to remind and have a tangible demonstration that we have a real commitment to our communities, that we will bring our people to the community. And we will serve the needs of the communities right where they are and in working in a respectful way that honours the knowledge of our Nation partners, we will learn new things. And change the way we think and work. It's a two-way street, and we will walk together with the communities we serve, and we will be better for it.
So here's one thing we're not going to change, though. And that is our commitment to engaged research, scholarly work and creative practice. Knowledge creation is at the heart of what makes a university special. The idea that much of our work is to play with ideas, think odd thoughts, uncomfortable thoughts, novel thoughts, and take these and discuss them with our colleagues, our students and in doing so, create a safe space for important discussions that just might change the world.
It's what we do at universities. It is not what we do off the side of our desks, but makes our teaching relevant, keeps us current and provides our students with the best of us. At VIU, we not only take our work to the classroom but we bring it to our communities and in doing so we work with our communities to make it better, to solve problems big and small.
We know that our creative practice, scholarly work and research makes a difference. And we commit to continuing this. And we commit to continuing to push the boundaries of what is known and in doing so, embracing different ways of knowing, because of the value of this work is not in just creating new facts – and I'll confess I'm a huge fan of facts. And I think facts are a little bit under fire right now. But often one of the overlooked values of this kind of work is the discipline and skill that is needed to allow discovery to happen. The respect for others' ideas and expertise that allows the debate to happen, and it is that work is at the heart of innovation, and universities like VIU play an important role in this work. It is the essence of what makes a university, big or small, special.
However, all of this work, all that I've talked about, relies on each and every one of you here today. Our students, our staff, our faculty, our community partners. And this may be where my bias is showing, but really, I think the strength of VIU is in its people. These are the people who make VIU very different. They take extra time to check in with a colleague who they know is having a hard day. They take time to walk the stairs – and we have a few! They take time to develop maps that allow those of us who are less mobile to navigate our campus. They work hard to make sure that our community is sustainable and accessible.
We ensure that we find and we talk about our blind spots and figure out ways to get around them so we can create opportunities for others. And we take time to welcome people from all over the world to our campus, and work hard to help each and every one of us succeed. Our strength is in our desire to lift each other up, to celebrate our successes and to help each other when we need it.
We're a different kind of place, this university that puts students first, and in doing so, celebrates its employees and recognizes each person's critical part in this mission. I guess you can say that I think universities to my mind are about so much more than just education. They're about the people who make up the place, and in doing so, help us have a good life.
Senator Murray Sinclair asked us to consider four questions that are at the heart of living a good life. These questions are:
Where do I come from? You've heard where I come from.
Where am I going? I hope you have some idea of some of the ways in which we're going to go.
Why am I here? I'm here to serve you.
And who am I? I hope you have some flavour of that now.
I think VIU and the people who made it are also part of answering these questions, and maybe it's a bit grandiose, but it's my day as the president to be grandiose, to stand here and say a small regional university like VIU can change what it means to be a university, challenge longstanding perceptions on who goes to university and what can be taught there, and how we understand and value people, and the people who make it. But I think it can. After all, if not us, who will do it? Do you want to dream big? Let's be different. Thank you.