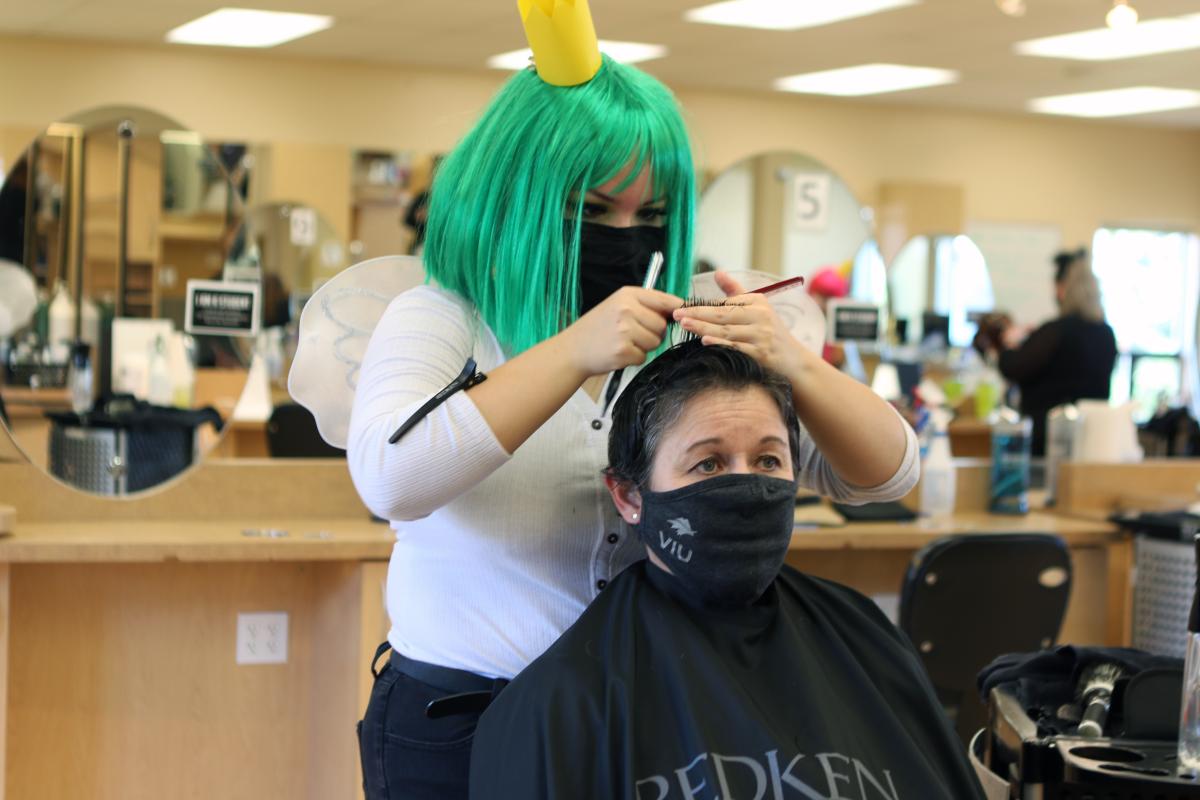 I've been spending some time on campus since the start of term and noticed, when wandering around, that I've been running into more people. Often this is on my way to the Mount Benson Market to grab a morning coffee, or around 2 pm for an afternoon snack. I highly recommend the sandwiches, the charcuterie tray, the salt and vinegar kettle chips, and the amazing people who work there. I've also run into a number of folks at the VIU Students' Union Pub and I highly recommend the quesadillas, Greek salad and poutine.
Even with a few more people on campus, it still feels a bit surreal. Some things appear to be thriving (the rabbits), and other things (the farmers' market) are missing. The campus is close enough to normal that it feels familiar, and at the same time it is not quite the same.
I've also taken to escaping our Zoom overloads by visiting with faculty and students, some of whom are on campus for face-to-face instruction. Although you can't tell it from the pictures because of the mask, I have a big smile in each of these photos. It is so nice to see our learners achieving their goals, and to thank our faculty for their continued commitment to providing such a high-quality experience. Thanks to those in automotive, carpentry, nursing, dental assistant and dental hygienist programs for putting up with me popping in.
I would be remiss to not thank Tim (Green) and Spencer (Russell) for the tour they gave me of their labs in the Centre for Shellfish Research. It reminded me of how much I used to love working in the lab with students and how much our students gain from these experiences. Thank you all!
The biggest highlight last week was provided by the students and faculty in hairdressing. I went to their facility with hair that looked a little like a throwback from the '70s and came out with a really great haircut. Thanks Peyton, it looks amazing. In watching Arden (Magtiza) work with our students, I learned a little about the theory behind cutting hair and how these faculty think about teaching such a tricky skill (take it from me, cutting your own hair is not a good look). All-in-all, a great visit. In the upcoming weeks, I'll be visiting with more students and employees and taking a trip out to Milner Gardens. I've realized that I miss the informal opportunities that used to exist to connect with our community and learn about your days.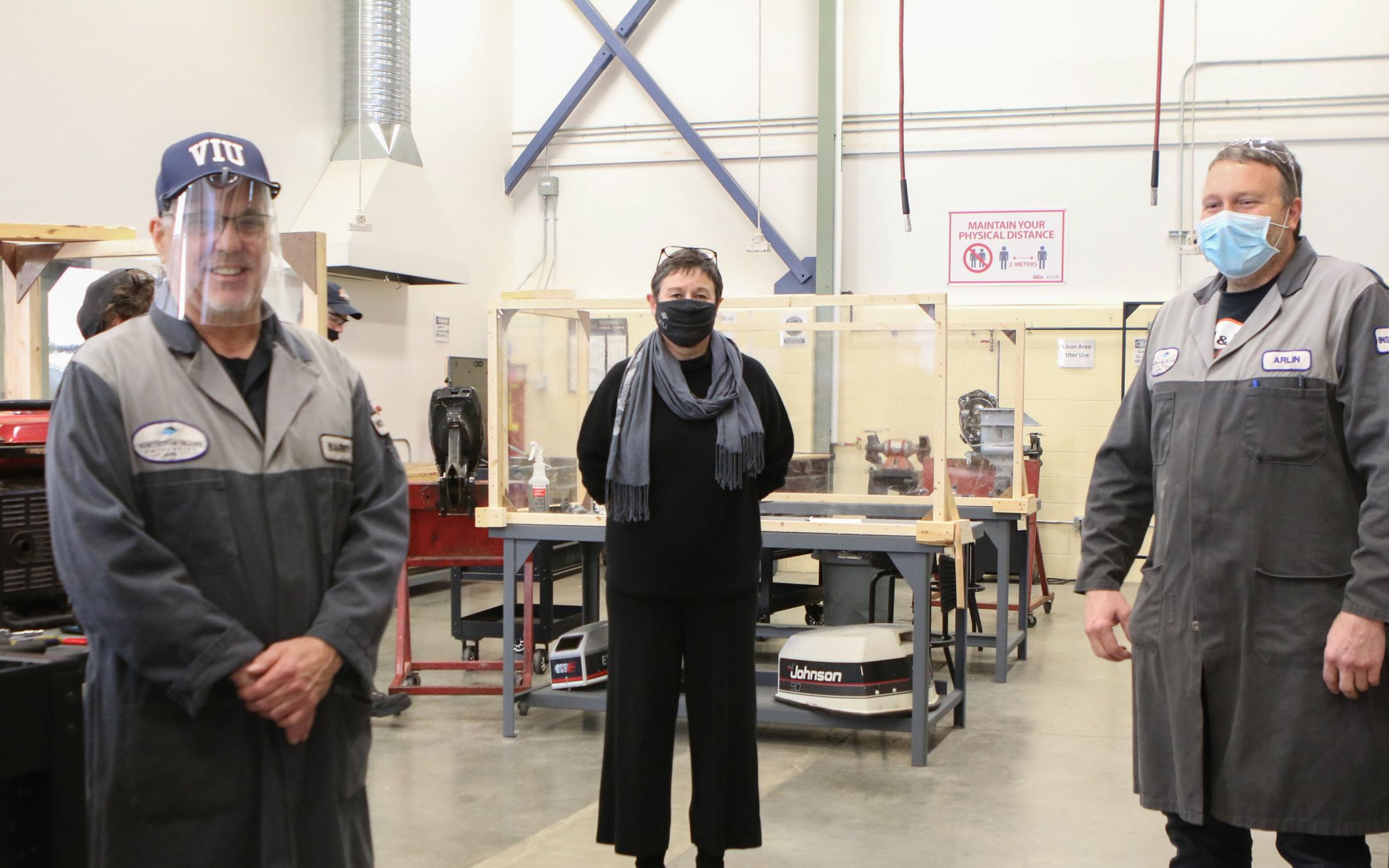 Deb Saucier visits the Motorcycle Mechanic and Marine Technician faculty and students
If you are on campus, let my office know. I'll do my best to swing by (even for a moment). I'll also be resuming my Zoom coffee breaks (check out the VIU Digest for details), and look forward to chatting with more of you over the next month or so.
The last thing I wanted to touch on relates to a conversation that I was having with friends about myths around Halloween, fondly known as "Lies my parents told me." You know the ones – stories about razor blades in apples, temporary tattoos laced with LSD, or that you can summon a ghost on Halloween by saying its name three times (OK, that one is true). These apocryphal stories are told as fact, and because I'm me, I went to the library to find out what we know about them. Turns out that the official term for these myths is "Halloween sadism" and that these myths emerged in the early 1970s in response to growing fear for the safety of children*. As you might expect, there is very little evidence that these stories reflect actual incidents, although the authors acknowledge that you cannot prove a negative. Interestingly, these myths tend to reappear whenever there is a heightened sense of public fear, with the most recent myth in 2019 related to Halloween candy being contaminated with chemicals found in vaping products. So, I guess that my conclusion is that people worry about their families and that a good scary story has legs (Beetlejuice, Beetlejuice, Beetleju….).
*Best & Horiuchi (1985).  The razor blade in the apple: The social construction of urban legends. Social Problems, 32, 488-499.  See also: Best (2008).  Halloween sadism: The evidence. 
What I'm reading/cooking
The past few weeks I've been in high kitchen mode. The garden has come to its end, although (delightfully?) the kale still seems to be thriving. With the amazing foods available at local farmers' markets, plus the bounty from my own garden, it was the perfect time to can, freeze, make jam and try new things. Plus, I have a cookbook problem. I'm that person who tries a new recipe for guests and hopes that it turns out. I bring to you three new cookbooks that I have been leafing through, along with a reference to the recipes from each that turned out better than I could have expected.
This is the bible of fermentation how-to, what to do with it after, and why it tastes good. Plus, it has plenty of really stunning illustrations that are largely biologically correct as well as beautiful photos so you can tell if your kombucha should be *that* green. To date I've made the lacto plums (and I used the same technique on peaches that didn't make it into the canning jar), and I'm trying my best to figure out how to make vinegar. So far, it doesn't taste bad, but it also doesn't taste like vinegar. Fingers crossed that a few more days will do the trick.
I loved The Omnivore's Dilemma and Cooked, by Michael Pollan. In Cooked, I was introduced to Samin Nosrat (among others), who changed my mind about the drudgery of chopping celery to an appreciation of how mindful cooking could be. Like many of my favourite cookbooks, this is a great read that is interspersed with recipes. The recipes are varied, ranging from soup to desserts, and in honour of Halloween, I am making "Lori's chocolate midnight cake" in spooky cupcake format. What I really like about this cookbook is that it gives you permission to experiment, giving you tips on classic pairings of flavours. This book will be the go-to gift for the next one of my friend's children who flees the nest.
I'm going to confess that I haven't made anything out this book yet. I don't know about you, but it seems to me that there is a rosehip bonanza this year, which is why I'm going to try making the rosehip butter, which appears to be useful for everything from rosehip pannacotta to a rosehip yogurt salad dressing. Other recipes call for burdock root, fir needles and chickweed. Handily, there is a section on what to take with you while wildcrafting and clear descriptions of poisonous lookalikes. This brings me to my last point. I know from others that our five-acre property is home to lobster mushrooms, chanterelles and morels; however, after reading the poison section of wildcrafting mushrooms, I'm willing to leave it to the experts. Any expert mushroom finders out there willing to teach me what to look for? I'll share, I promise.
Playlists for October/November:
Just a few tunes for the fall.
Broken Bells: October
Jake Bugg: Country Song
Eva Cassidy: Autumn Leaves
Fleet foxes: Sun it Rises
Neil Young: Harvest Moon
Yo La Tengo: Autumn Sweater
Wyclef Jean: Gone 'til November
The Cure: The Last Day of Summer
Manic Street Preachers: Autumn Song
White Stripes: Dead Leaves and the Dirty Ground
James Vincent McMorrow: National
Bonus track: Donna Summer: Autumn Changes
Some of my favourite music for curling up on the couch with a book and watching the rain come down.
John Coltrane: Autumn Seranade
Sarah Vaughan: Lullaby of Birdland
Ella Fitzgerald & Louis Armstrong: Autumn in New York
Chet Baker: My Funny Valentine
Diana Krall: Walk on By
Nina Simone: Sinnerman
Mo Koffman: Swinging Shepherd Blues
Etta James: Tell Mama
Billie Holiday: Miss Brown to You
Shirley Horn: Fever
Bonus track: Madeline Peyroux: Guilty