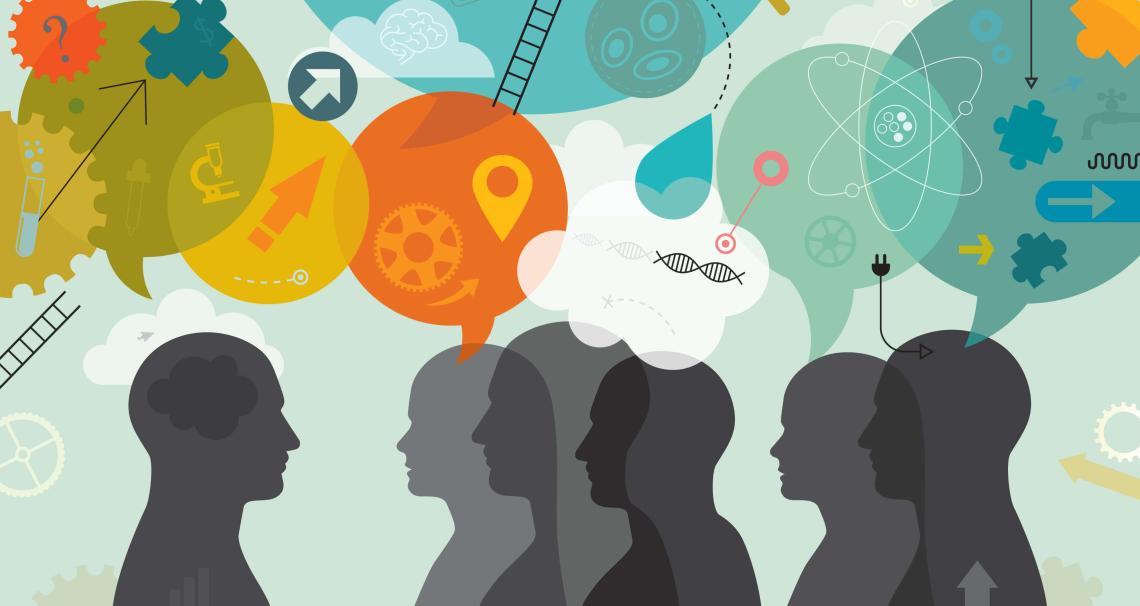 Return to the main Strategic Planning page
Here are the findings from the first round of conversations on The Future We Want to See held from March-July 2020. 
What We Heard: Report on VIU's 2020 Strategic Planning Conversations
Executive Summary
VIU launched its strategic planning engagement process, The Future We Want to See, in March 2020. From March to July, we reached out to almost 30,000 people our region, on and off campus, and some 1,000 students, alumni, employees, and community members took part in (mostly virtual) presentations, surveys, meetings, World Cafés, and workshops.
This report highlights some of their stories and ideas, reflecting back to VIU's communities the range of messages we heard during our conversations. These accounts are crucial input as VIU continues to build its five-year Strategic Plan. 
Broadening Access
VIU is proud of its reputation as an open access university. Contributors shared stories of welcome for students who had not thought post-secondary education possible. Attracted by a wide range of offerings (including adult basic education and other bridging programs) and opportunities to build on their learning ("laddering"), students emphasized the range of meaningful measures VIU puts in place. Affordability and financial help (though modest), welcoming recruitment and admissions employees and easy application processes, support for students with differing abilities, and a culture of inclusion were all highlighted. At the same time, many potential students in our regions are still unable to access education. The lack of online options (prior to March) and limited course scheduling (few/none on weekends, evenings, or summers) were part of the reasons. Suggestions were to continue to offer face-to-face programs but also incorporate more online offerings to expand course availability and laddering, and to continue increasing accessibility on campus and in the classroom. At a time and in a community where working people may be VIU's greatest source of new students, some of those ideas may need closer examination.
Boosting Success
In VIU's conversations about "Boosting Success," the single strongest theme has been connection. Students, alumni, and employees overwhelmingly describe student success as moments of personalized support in and outside the classroom, including support lent by their peers. That connection builds confidence, enthusiasm, attachment, and deeper learning. For a largely commuter campus, connection is especially important to student success: fewer points of connection contributed to stories of isolation, lack of belonging, and mental health distress. Also key to student success, contributors explained, was the quality of instruction and the availability of high-impact learning experiences, especially those in the region's communities. Many of the visions shared for VIU's future had to do with building connection and deepening those experiences: strengthening the practice of outreach, enhancing high-impact learning opportunities, strengthening the transition to work, building a pedagogy of mental health, and providing deliberate spaces for students to strengthen their sense of belonging. 
Honouring Indigeneity
VIU built an early reputation as a leader in welcoming and supporting Indigenous students and communities. Local First Nations and other Indigenous leaders have in turn contributed to the pedagogy/ways of knowing, curricula, classroom experience, and academic and personal support on all VIU's campuses. We also know from the conversations on "Deepening Reconciliation" this spring that this culture of respect has been transformational for Indigenous and non-Indigenous students and employees alike. More is still to be done, say contributors, including bringing more of the employee and student community into the conversation, integrating more Indigenous content and approaches in the curriculum, building the community of Indigenous employees, clearing the path for Indigenous students, and enhancing partnerships with Indigenous communities.
Strengthening Community
Community engagement is a point of pride at VIU, intensified today as the whole of our region plans its response to the pandemic and its profound impact on the workforce. Key strengths centre on student experiences in the community, VIU's contribution to regional economies, as well as its roles as a regional knowledge hub, as a service provider and neighbour, and as a learning partner for community members. Visions for the future included ideas for extending community-based learning, building greater capacity to link programs, students and employers, and greater visibility for VIU in the communities it serves.
Building Knowledge
The engagement conversation began with a question about "Encouraging Discovery," a phrase made deliberately broad to capture the range of VIU's knowledge activities in research, scholarship, creative activity, inquiry, and applied problem-solving. Even though VIU is designated as a teaching-intensive university, research (and other knowledge building activities) are a big part of VIU students' experience. Their stories focus on the institutional support that VIU gives to its undergraduate and graduate population to apply for grants, learn and deploy research methods, conduct original research, present at conferences, and be accepted for publication – for undergraduates especially, these are rare opportunities in other universities. That work happens not only with academic faculty and in VIU's research institutes, it also happens in the applied subjects. Further, we know that the vast proportion of that knowledge work is based in the community: about the local ecology, economy, and society. Areas for new thinking include ways to extend the experience to an even greater proportion of VIU's students, build additional supports, and create new opportunities for sharing knowledge across faculties and departments.
Learning from the Pandemic
The Strategic Planning engagement process was launched just two weeks before lockdown. In the conversations that followed, many of our students and employees spoke about the strengths – and struggles – of the new normal. We heard stories of the loss of personal connection as well as its inverse – a greater sense of community and contact. We heard stories from those who were flourishing in the learning format, and those who were finding the switch difficult. We also heard stories from instructors on the strains and surprises of teaching, and some of the innovative teaching practices they are beginning to adopt. Employees across the institution and at all campuses spoke about the strengths, challenges and surprises of working remotely. Calls for keeping some aspects of the pandemic response in place were made, including the investment in connection and community, the flexibility and accessibility of online learning, innovations in pedagogy, as well as the benefits of more flexible working arrangements.